Meet our friend Opal Stewart. Brooklyn dweller, fashion blogger, poet, traveller, empowered woman, and source of inspiration to over 27k followers. We asked her a few questions so you can get to know her a bit better-- and get inspired!
Tell us about your experience living in Brooklyn. How long have you lived here, and how does the city bring you inspiration?
I moved to Brooklyn about 2 years ago and I absolutely love it. I grew up in the city but never ventured out to Brooklyn too much but now I just love exploring the different neighborhoods. Each one has its own charm. There's a sense of community in the building where I live which is full of artists and creatives alike and that's such a luxury when living in New York City. I definitely draw inspiration from people who inhabit this city.
Where did your love for fashion come from? What inspired you to start a blog? Have you always been so fashionable?
Growing up in Manhattan I was always inspired by the fashion that I saw and I felt like I couldn't leave the house without looking put together because everyone seemed to be so on point. In High School I had to wear a uniform which consisted of a white collared shirt and black pants. That is as boring as you can get with a uniform! With that, I started playing with adding different accessories to spice up the uniform like change my shoelaces to a different color every week, add a lightweight scarf or a colorful belt to add a pop of color and I used to go to Forever 21 and buy some funky earrings. I think that was the moment when I started experimenting with my style and developed my love for fashion.
I started my fashion blog around 2010 when fashion blogging was just becoming a thing. I remember discovering a few fashion bloggers who I admired and thought that I had something to contribute so I started a blog of my own. This was while I was in college so I had a lot of free time to browse the internet and I saved up and bought a Canon Rebel camera, recruited my sister to be my photographer and we just went out and shot mostly in my neighborhood. The fashion blog was also a way for me to experiment and develop my style. Now I can just look at a garment and know exactly how it's going to fit me or what it should be paired with.
What kinds of accessories do you typically reach for? Can you tell us your top 5 accessories that you can't live without?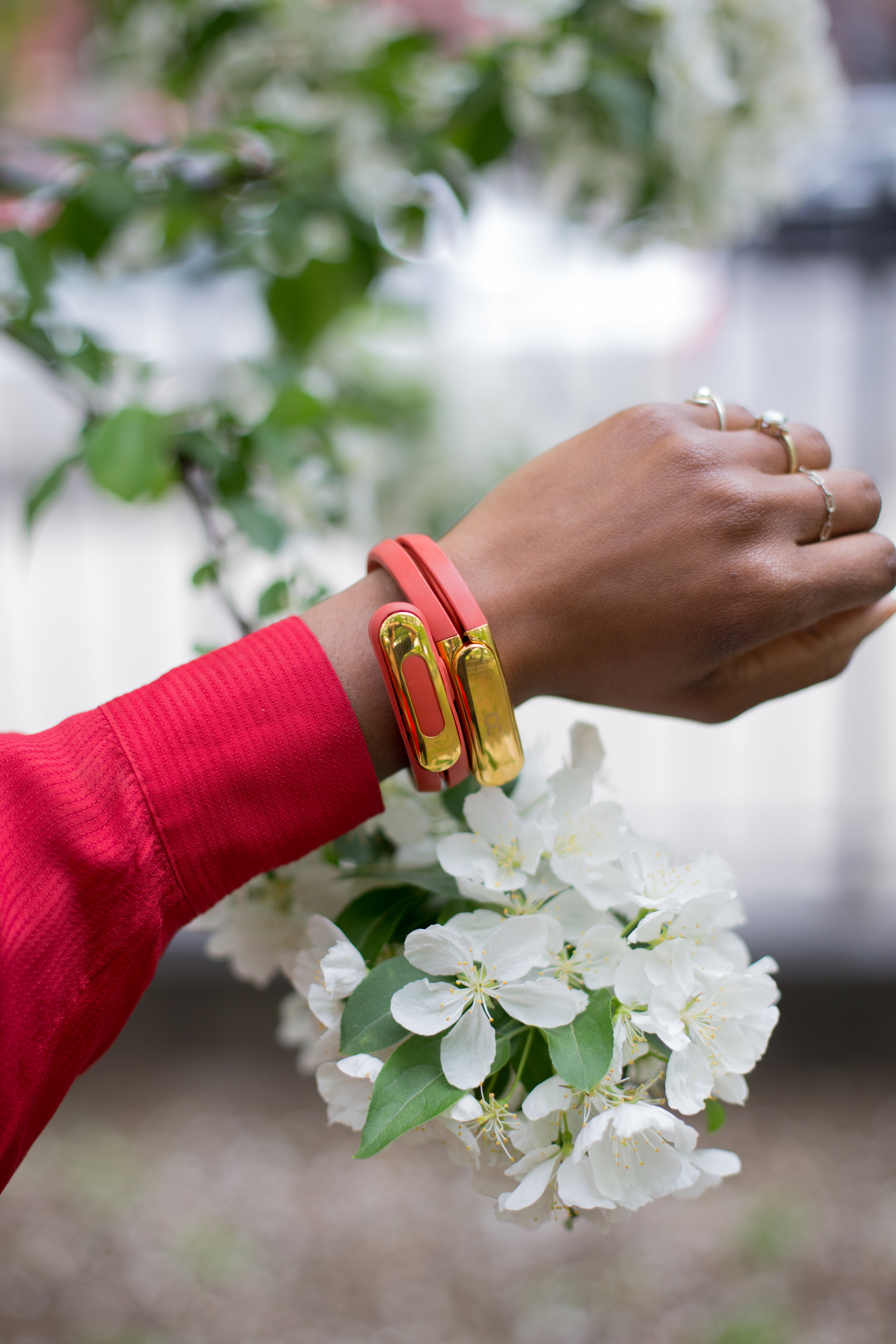 When it comes to accessories...
When it comes to accessories I've become such a minimalist. You can say I've come a long way from my funky chandelier, feather and gigantic hoop earrings I used to wear in high school. Now I can't live without my diamond stud earrings, Milanese loop watch, gold cuffs, my Opal rings, gold necklace and of course my gold and red Helix Cuff that doubles as earbuds.
What kind of advice would you pass along to others wanting to start their own fashion blog?
I would say to just start! I'm such a perfectionist and I never want to put out anything if I'm not proud of the quality and I think sometimes that hinders me. My boyfriend even has a saying "Good is good but done is better". As I continue in my work I'm starting to realize that you don't improve your talents and skills by waiting to create the perfect blog post or take the most perfect photos. You just have to go for it and you will learn from both your mistakes and successes along the way and that's the only way to get better in anything that you do.
You seem to post content almost daily! How do you stay organized, productive, and inspired?
I honesty seem to thrive in "organized chaos" which is probably not the best advice for most :) But I do have certain routines that help me with the daily grind – I shoot on the weekends, edit pictures during the week and always try to post daily at the same time. Free time is always hard to come by but I've been sacrificing certain things like watching TV and mindlessly browsing the internet which is hard at first but definitely pays off in the end.